Yay! I'm sooooo happy
The Vintage Apple
is going this link-up again! I just think it's so much fun and so funny to see who everyone else picks! If you wanna join in, or just look at everyone else's, head over to check them all out! (Also, if you want to see my last one, go
here
)
So with out further ado, the latest edition of....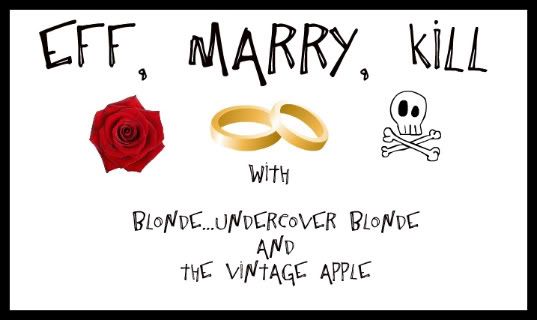 In honor of Jerzday (please tell me I'm not the only one who's excited for the new season haha), I decided to use the boys from the Shore!



Eff:



Vinny! He's adorable and seems like a decent guy... plus Snooki had some, um, interesting things to say after their fling haha



Marry:
Pauly D, of course! I think he is just too funny-seriously, he has me cracking up every time he's on screen. And he's not too bad to look at either hehe
And finally...
Kill:
(AKA do away with)
Ronnie. Ugh. Could he be a bigger D-bag? It was a close call between him and Mike...honestly I wouldn't mind getting rid of both of them lol
Anyone else ready to watch the Shore house back in action tonight?
Who would you Eff. Marry.Kill?