When I was in high school we used to play "Eff. Marry. Kill" so I was soooo excited when I saw The Vintage Apple was hosting a link up!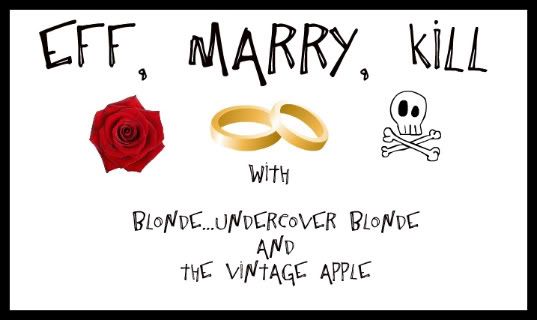 Basically, you choose three male celebrities and then you have to decide which of the three you would...well, eff, marry or
kill
make disappear, it sounds less violent haha
Since I'm catching up on my DVR today and have three episodes of Sons of Anarchy to watch, I figured I'd pick three of those guys to play with...I just have a thing for boys on bikes ;-)
Eff...

Opie-Yea, he's a little crazy and pretty grungy, but I feel like those could add up to a fun night... Plus, his voice....yum.

Marry...
Jax-no questions asked. He seems like he's got his head in the right place (for the most part), is genuine and, obviously, looks pretty good with his shirt off hehe
Kill...
Clay-Now, it's not that find him to be terribly unattractive...but he's just been so horrible this season! So. away he goes!
So....
Who would you
Eff, Marry, Kill?
Go link up with
The Vintage Apple
and
Blonde...Undercover Blonde
to share yours!