Today for
Top 2 Tuesday with The Undomestic Momma
, it's "Top 2 Favorite Drinks"!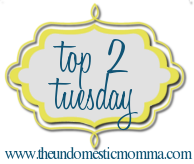 I have pretty much given up drinking pop, but when I want to treat myself, I love Cherry Pepsi!
I usually drink the diet, which is soooo good, (it honestly doesn't taste like diet!) but if I'm out to dinner, I can't resist Cherry Pepsi made with grenadine. It's so syrup-y sweet and delicious-yum!
2. McDonald's Sweet Tea