I'm linking up with FTLOB today :-)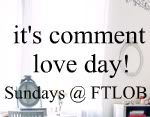 In honor of yesterday being
National Record Store Day
, I wanted to share a few memories I have of record stores.
First and foremost, I can't really think of record stores, or music in general most times, without thinking of my dad. When I was younger, we would go downtown on Saturdays and check out the used record stores, especially Wazoo.
He would look through the crates upon crates of discs and I would stand on my tip toes to even see most of them. Usually, I spent most of the time looking at all the old posters on the wall-they were so intricate and interesting. After he got done and picked out his discs, we would go to the coffee shop downstairs so he could get his coffee and I could get steamed milk and honey.
The record store we used to go to also bought/traded in cd's. I had a few that I didn't listen to anymore and decided I was going to trade them in. The guy working the counter was a college student who we'd seen pretty much every week we went there so he recognized my dad and me alongside him. I showed him my cd's for trade-in, which were probably a few kids music compilations and some classical music, and looking back on it, I can tell he didn't really want to give me any money back because he probably wasn't going to sell them, but he did anyway. I'm not even sure what I ended up getting, but I thought it was just the coolest.
We also used to stop by Tower Records and I would browse the used cd's there, too. One time, I bought Savage Garden but when I took it home, the cd was broke in half! I took it back and exchanged it for No Doubt's Tragic Kingdom, which ended up changing a lot of my musical taste. I'm thoroughly convinced that the music god's played some divine intervention on that one.
When I was in middle school, a record store, Rubber Sole, opened up in Ypsi, so my dad went there a few times a week and became pretty good friends with the owners (we still see them around town even though the shop closed a few years ago). Upstairs from store, they had a space that they used for performaces. One day when I was there, they were playing a local musician's album, names Brandon Wiard. I was in love at first listen (and it's still one of my favorite albums). He was playing a show a few weeks later and my dad brought me to watch him. I can so clearly remember standing in the corner, staring at him while he played. I was in awe and just so impressed. I had a crush on him for years-bought all his albums, saw him play, wore his tee shirts and merch. I ended up seeing him at a concert last fall and I still got all smile-y, even almost 10 years later.
I have lots of great memories, but these are just a few of my favorites :-)