It's time for another round of Eff.Marry.Kill-I love this link-up! It's so much fun!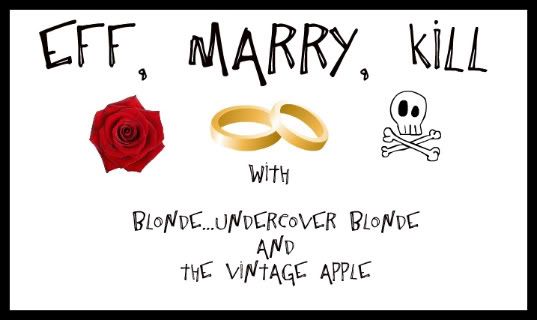 I was having a hard time coming up with what I was going to do for this one, but when I was watching SportsCenter this morning, I had a stroke of genius haha
So here's the three pro athletes I'd like to Eff.Marry.Kill!
Eff-Blake Griffin
Dude's a monster. There's really no other way to put it. And even though he used to be kind of awkward looking when he played college ball, those NBA workouts have been good to him
and he kinda grew into his head haha
Marry-Joel Zumaya
I've always maintained that him and I were basically perfect for each other-he likes baseball, I like baseball. He likes Guitar Hero, I like Guitar Hero. That's pretty much where the similarities end, but I'm pretty sure we're a match made in heaven lol
Kill-Tom Brady
(PS-Have ya'll seen this photo? Cracks me up every time!)
I know this is probably an unpopular choice, but he just bugs me. Ever since he played at U-M, he just kind of struck me as a d-bag. And that Beiber hair he was sporting for a while there did him no favors.
Who would you Eff.Marry.Kill?
Go link up with
The Vintage Apple
and
Blonde, Undercover Blonde
to share yours!