Today for
Top Two Tuesday on The Undomestic Momma
, it's "Top Two Things You've Learned About Relationships."
Even though I'm not currently in a relationship, I've had some trials and errors over the past few years which have all taught me a lot. While it hurt when some of those relationships ended, I've realized that what I learned from them will help me to a be a better partner in future relationships, so I've developed some gratidtue for all of them :-)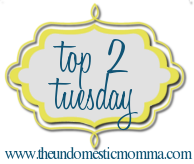 1. If I'm going to be happy in a relationship, I have to be happy with myself.
I went through a period of "serial dating"-jumping from one relationship to the next, without much of a break in between. Suffice it to say, I wasn't all that happy with the situation, or myself, by the end of it. I ended up taking an almost year long break from dating, by the end, I was actually happy and content! I got into a relationship, which didn't work out, but when it ended, I knew it had nothing to do with what I looked like, how I talked, etc and was really just that we weren't compatible. It made getting over the break up just a little easier.
2. Agreeing on core issues is key.
I was in a relationship that I was really happy in, but when we started discussing some core issues, we didn't agree on them at all! For instance, I want a family with children and he didn't. Also, even though I don't go to Temple every week, I pray on a regular basis and have a definite faith in God, neither of which he understood and even worse, wasn't interested in learning about. Because of these, along with some others, it really didn't matter how happy we were in that moment, it realistically wasn't going to last.