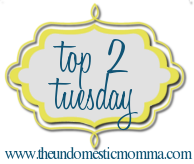 This Week it's "Top Two Celebrity Hairstyles"!
1. Hilary Duff
I'm not her biggest fan, but I've been looking inspiration for my next hair cut, and hers is the closest I can find to what I want. I have curly hair so my options are pretty limited, but I'd really love some layers and bangs like hers :-)



2. Ginnifer Goodwin

If I was adverntourous enough to have short hair, I would totally want hers. I think she is adorable to begin with, but I love her little bob! So cute!