Jessalyn Amber is hosting a fun link up called The Name Game!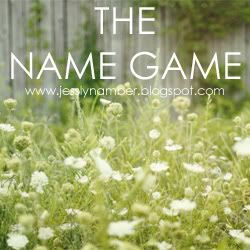 Basically, you just have to answer the questions:

What does your blog name mean?
or
Why did you choose the name you have?
Or just be like me and answer both! haha

My blog is title is actually a lyric from a favorite band of mine.


If you ponder your scene then it's over
See the beauty being where you are
Appreciate the fireflies baby just in case
You never see the stars


I saw them in concert before I had ever really heard of them, and this song just stuck with me after the show. I just couldn't get it out of my head and it sort of became my mantra.



For me, its really a reminder to be thankful for what I have today, and not worry about what may be coming in the future. I don't do as good of a job of that as I would like, but by having at as my blog title, it's a pretty daily reminder to be focused on the moment and not to take anything for granted.

Appreciating the Fireflies